Obituary for Charles "Ed" Edward Johnson
Ed was born on June 2, 1929, in Los Angeles, CA, where he spent most of his life. After graduating from George Washington High School in 1947, he went on to attend Pasadena Nazarene College, but due to a severe car accident, was unable to continue.

In 1950, he married the love of his life, Doris Pierce, who he'd known since they were both 12 years old. After their marriage, he worked for Goodyear making inner tubes until he was invited to join the Flying Squadron, a management training program for Goodyear. The purpose of the training was to acquaint the individual with the various parts of the company. At the same time, while working the graveyard shift, he told the Lord that he didn't want to work there all his life. On leaving the building that night, he found a paper on the ground advertising training for a Design Engineering Degree in Tool Design from International Correspondence School (ICS). He entered the program and received his engineering degree a couple of years later. After completing the management program, he managed the same department where he had started working for Goodyear. But, when they found out he was doing tool design, he was moved into the design engineering department. It was there that he worked on the KC135 air force tanker, which refueled other airplanes from the air. During his 4 year career, he even had the opportunity to ride in the Goodyear blimp a couple of times, once, with the President of the company.

It was after that, Ed went on to work for North American Aviation in Lakewood, CA, as a design, or drafting engineer, where he did the calculations and drawings for the divider used between the two booster tanks for ballistic missiles. At another, smaller aviation company, he made the calculations and design for small springs that were used during the moon shot. In between jobs, he worked on the monorail for Disneyland.

After their 3 children were born, they eventually moved to Buena Park, CA, where Ed became the choir director for the Buena Park Nazarene Church. In 1958, both Ed and Doris felt called into the ministry. While attending Pasadena College to get his seminary degree, Ed worked part to full time at Lin Altect, designing packaging for sonar equipment parts for submarines. He was also the chaplain on weekends for the Northwestern Military Academy in Pasadena.

Upon completion of his degree in 1963, Ed ministered in several Nazarene churches, beginning with Clovis, CA. It was In Ceres that he received his contractor's license while constructing a new church building. From there he took churches in Exeter, Palmdale, Mojave and Covina, CA. While ministering in Mojave, he attended a state college to get his director's license to operate a day care at the church. Since Monday was the Pastor's day off, Ed and Doris would go fishing, at least Doris fished while Ed baited the hook and took the fish off that she caught, only to bait the hook again!

After ministering in Covina, Ed felt that it was time to leave the ministry, and went on to do construction work full-time. He designed dust collecting systems for his cousin Bob's sheetmetal shop and helped to design a conveyor belt for Lever Brothers. When Bob moved to Oregon, Ed ran his own business for several years building and repairing earthquake damaged houses. After the Whittier earthquake, he and Doris moved to Boulder Creek, CA, to do earthquake construction on several of the hundreds of fireplaces that were damaged by the earthquake. Following this, they returned to LA where they moved into Ed's deceased mother's home in La Mirada. It was here that Ed lost the only woman he ever loved in May of 2004. In 2009, he moved in with his daughter and son-in-law where he resided ever since.

Charles is survived by his three children, Judy White and husband Bob of Camdenton, Chuck Johnson and wife Janet of New Carrollton, Maryland, and Mike Johnson of Coronado, California, eight grandchildren and seventeen great grandchildren.

For many years, Ed has taken on the ministry of making Biblical bookmarks, PowerPoints for Bible Study and sermons, and creating booklets containing Bible Stories or Principles of faith to share with everyone. During those years, he has given away hundreds of bookmarks, to whoever he met, and hundreds more have gone out around the world, even in other languages.
To send flowers or a remembrance gift to the family of Charles "Ed" Edward Johnson, please visit our Tribute Store.
Previous Events
Memorial Service
The Potter's House
2073 S. Business Rt. 5
Camdenton, Missouri 65020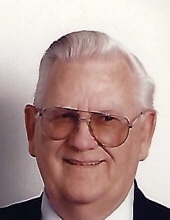 Thank you for sharing your
memory of Charles "Ed"
Provide comfort by sending fresh
flowers from our local florist.
No thanks, please don't show me this again.